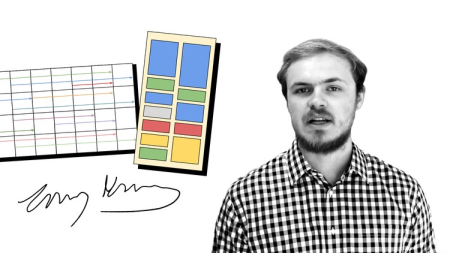 h264, yuv420p, 1280x720 |ENGLISH, aac, 48000 Hz, 2 channels, s16 | 25h 59 mn | 20.31 GB
Created by: Timothy Kenny, Kenny Media
9-in-1 Course Bundle: Get the Ultimate System for Planning Your Week, Month, Quarter and Year in 60 Minutes Each.
What you'll learn
Get full 24 hour metrics on where you spend your each day of the week
Learn how to master your daily schedule
Enjoy the feeling of full engagement for 80+% of your day
Plan your days better so you are more efficient and spend more in the flow
Plan buffer so that one mistake doesn't ruin your whole day or week of plans
Create a budget so you know how much free you really have each week
Plan out their entire month in just 60 minutes
See their progress month over month is the unique "story view" perspective offered with this planning system
Integrate their weekly and monthly planning in a seamless system
Requirements
Google Calendar
Greenshot (for easy screenshotting)
Description
Description for v3.0 (2020):
This course represents a paradigm shift in productivity, personal development and planning that is the biggest since Getting Things Done was first published by David Allen in 2001. There will be more details to come for implementing it, but the big picture is shared for the first here in this course. The big idea is called "Personal Governance" and you can learn about it in the section called "Personal Governance." This idea is the missing piece that integrates Mastering Planning, Mastering Organization (and to a lesser extent, End Game).
I am also adding for free 3 other courses to this bundle for v3.0:
Mastering Long Term Planning (how to plan at the 5, 10, 20, 40 and 100 year scales)
Structured Note Taking Vol 50 - Subjective Well Being (How to optimize for happiness/well being, not just traditional performance or financial metrics)
Mastering Planning v1.5 - The Visual Upgrade (Includes details on how to create a planning poster)
With everything above, Mastering Planning 2020 v3.0 is now a 9-in-1 course. It's a bundle of Mastering Planning v3.0 plus 8 other courses that were originally sold separately.
You can find the new v3.0 content starting in Section 8 of the course. Mastering Planning v2.0 starts in section 2. I recommend going through it in the order it's now in. Mastering Planning v1.0 videos are useful only to get a deeper understanding of some theoretical aspects that are not needed to implement the system but will be interesting to some, like the theoretical basis in AI research and other aspects like computational complexity theory.
Timothy
-
Description for v2.0 (2019):
In this course you get a complete system for planning your life.
This course is based off a best selling course, the original Mastering Planning, which has been a front page featured course in the Productivity section of Udemy.
Here are the improvements over the first version:
1. The course includes 9 able templates for implementing the system in a purely digital system. The previous version was based on hand-written templates that you had to print out.
2. The drawings have been re-done and significantly improved in detail and color. The previous version had only hand-drawn papers which were not able and the handwriting was hard to read.
3. There are several new templates/sub-systems that were not included in the previous version. These include the process, project and task management systems.
4. You get access to the complete life organization taxonomy (213 sub folders [aka sub-categories) within the "Big 4" System of Professional, Personal, Relationship and Health life sections) for FREE. This previously required buying my separate Mastering Organization course. I decided to include this to improve integration of the systems.
5. You get access to the Routines manager and Weekly planning digital templates, which were previously sold separately as a course. These didn't exist in the first version.
6. You get access to shared "Google Calendar"-calendars (also properly color coded) that you can copy and instantly use to structure your planning without recreating everything in the course from scratch. This didn't exist in version 1.0.
7. I cut a lot of fluff out of the course. This includes the theoretical stuff I spent too much one relating to the innovative aspect of this system which is based off theory from the field of Artificial Intelligence on the computational complexity of planning problems. If you are interested in the theoretical innovations and basis of this system, you can see it in the first version which you be able to get access to via a link from this course, even if I take it offline at some point. I aimed to take the previous 12 hour course and bring it down to 2-3 hours.
The overarching idea is that you plan at multiple levels and keep track of all tasks, projects and processes in a single system so that nothing falls through the cracks. You review these portfolios of tasks, projects and processes at regular intervals so that all those things you want to do "someday" actually get reviewed at weekly, monthly, quarterly etc levels so you can rd yourself that you might want to do them.
You will be able to ask me questions about the system and how to implement it in the course.
Timothy
Description for v1.0
The Most Successful Personal Planning Course Series of All Now All in One Course
5 Courses, covering every stage of the planning process (hourly, daily, weekly, monthly, quarterly, yearly), now combined into one Massive Course.
12+ Hours of high quality, 1080p video
The #1 planning system in the world.
What makes this planning system different?
1. It's the only learning system built around LEARNING to become a better planner at every scale through consistent feedback.
2. It's build around the idea of measuring how you ACTUALLY spend your each day so you can compare it with how you panned it.
3. The system is INTEGRATED at all the important scales, and uses very similar documents at each level so it's easy to remember how to implement the system at each level.
4. You'll Learn a VISUAL system for seeing where your is going at every level: Day, Week, Month, Quarter and Year.
5. Manage your in terms of PROJECTS, not just tasks, so that you can avoid information overwhelm when you have hundreds of tasks.
6. Manage huge to do lists of 100s of items effortlessly with an ADVANCED TO DO LIST system that organizes and sorts tasks by cost and urgency.
7. Integrate BUFFER into your schedule so that going over your scheduled doesn't ruin your schedule for the rest of the day.
8. Track KPIs so that you can get consistent long term data on your most important projects and habits.
9. Get a STORY-VIEW perspective on your reviews at the Weekly, Monthly, Quarterly and Yearly scales so that you can easily see how you progress from period to period.
10. Use COLOR CODING to get a better view of where your is going in the Big 4 areas of your life: Professional, Personal, Relationships and Health.
11. Optimize your IN THE FLOW each day by removing the constant stress and overwhelm that comes with under planning and over-allocation.
This course, and really, this system, has the potential to really transform how you organize your .
Try it for 30 days and watch how it changes your experience of .
See you inside the course,
Timothy
Who this course is for:
Professionals who want to increase their productivity
Entrepreneurs who want to get a better handle on where they are investing their valuable
Students who want to study hard but still have for everything else
DOWNLOAD
(Buy premium account for maximum speed and resuming ability)
Master Planning v3.0 (2020): Plan Your Week, Month and Year
Master Planning Plan Your Day Week Month Quarter Year | Master Planning | Girlfriend Master Plan | two week meal plan fir black girls wotk out too | TRX 12 Week Workout Plan | t25 meals plan fast track meal plan free | men s fitness 12 week body plan magbook | kris gethin 12 week workout plan free pdf download | How to Develop a Brilliant Memory Week by Week pdf free | four week plan to walk your way thin