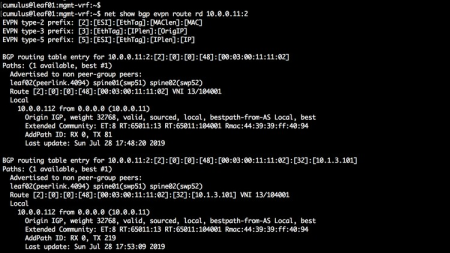 h264, yuv420p, 1280x720 | ENGLISH, aac, 44100 Hz, 2 channels, s16 | 6h 50 mn | 3.3 GB
Instructor: Satinder Singh
The Cumulus Linux Fundamentals to Advance VXLAN EVPN is a modular course, you can virtually start from anywhere provided you have a knowledge of previous topics in the course.
Learn, configure, and Troubleshoot Cumulus Linux, VXLAN encapsulation, EVPN control plane for VXLAN What you'll learn
Configuring Cumulus Linux switches using NCLU
Understand VXLAN encapsulation
Understanding of EVPN control plane for the VXLAN
Different types of EVPN routes and when they are used
Troubleshooting of VXLAN EVPN Network
Requirements
Basic understanding of switching and routing
Description
The course will walk form the basic configuration of network device running the Cumulus Linux to advanced VXLAN EVPN topics.
The advanced theoretical VXLAN EVPN control plane lectures are vendor independent and such knowledge will be helpful to configure and troubleshoot VXLAN EVPN implementation of any vendor.
This course also walk the students to practical part MP-BGP EVPN control implementation for VXLAN encapsulation. Students will be using the virtual Cumulus devices. Upon completion of this lab, users will able to
Configure and understand the the Cumulus Linux
Manually configure eBGP in a standard Spine-Leaf topology for VTEP reachability information
Manually configure VXLAN BGP EVPN in a standard Spine-Leaf topology
Use command line interface to verify VXLAN and BGP EVPN operation
Troubleshooting VXLAN and EVPN control plane on any vendor
Course contents
Module 2: Network Command Line Utility
Introduction to NCLU
Basic switch configuration with NCLU
NCLU configuration options
Module 3: Interface configuration
Interface Introduction
Virtual vs Physical Interfaces
Loopbacks
Switchport Basics
Switched Virtual Interface (SVI)
Bonds
Module 4: Unnumbered Interface
Unnumbered Interface Concepts
Unnumbered Interface configuration
Module 5: Multi-Chassis Link Aggregation (MLAG)
MLAG Operation
MLAG Configuration
Module 6: First Hop Redundancy Protocol (FHRP)
Introduction to FHRP
Virtual Router Redundancy (VRR)
Virtual Router Redundancy Protocol (VRRP)
Module 7: Datacenter Architecture
Traditional Datacenter Architecture
Layer 3 IP CLOS Basics
Modern Datacenter Architecture
Module 8: Underlay routing protocol
Introduction to BGP
eBGP as Underlay routing protocol
BGP unnumbered interfaces
BGP route reflector principals
Module 9: VxLAN
VXLAN Overlay
VXLAN Packet Details
Key Components of VXLAN
VXLAN Fabric Benefits
Static VXLAN Tunnels
Module 10: EVPN Control plane for VxLAN
EVPN fundamentals
Tenant/Customer and VRF Concepts
Autogenerated and manual RD and RT Assignment
Module 11: EVPN Routes-1
EVPN Route Types
Tenant/Customer with one network with bridging within networks
Type 2 MAC EVPN Route Analysis
Type 3 EVPN Route Analysis
Module 12: EVPN Routes-2
Tenant/Customer with two networks with bridging within networks
Type 2 MAC EVPN Route Analysis
Type 3 EVPN Route Analysis
Module 13: Asymmetric Integrating Routing and bridging (IRB)
Introduction to Asymmetric IRB
Inter-subnet routing
Asymmetric IRB configuration
Type 2 MAC and MAC+IP EVPN Route Analysis
Type 3 EVPN Route Analysis
Module 14: Symmetric IRB
Introduction to Symmetric IRB
Symmetric IRB configuration
L3VNI concepts
Inter-subnet routing
Type 2 MAC and MAC+IP EVPN Route Analysis
Type 3 EVPN Route Analysis
Who this course is for:
Datacenter Network Support Engineer
Datacenter Network Designer
Datacenter Network Architect
Who are preparing for Datacenter certification
Anyone who wants to learn about the Cumulus Linux
Anyone who is preparing for Cumulus Linux certification
Anyone who wants to know about VXLAN & MP-BGP
DOWNLOAD
(Buy premium account for maximum speed and resuming ability)
Cumulus Linux from Basics to Advanced VXLAN EVPN
Advanced Linux Storage | Advanced Linux Storage Management | Advanced Linux Storage Management 5 days | acronis advanced server linux | advanced server linux | linux guide to linux certification 3rd edition chapter 9 review answers | linux guide to linux certification 3rd edition chapter 7 review answers | Linux Guide To Linux Certification Answers Linux Answers chapter 9 | acronis backup recovery 115 advanced server for linux rapidshare | acronis backup recovery 11 5 advanced server for linux