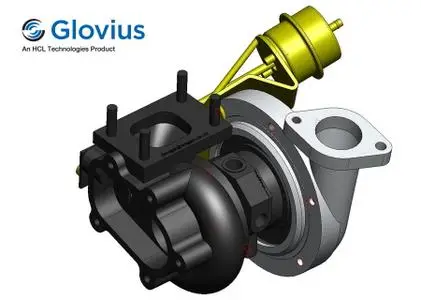 [b]Geometric Glovius Pro 5.1.0.428 | 191.1 mb[/b]
Geometric Limited is pleased to announce the availability of Glovius Pro 5.1.0.428 is a modern CAD viewer with support for all popular 3D CAD file formats. Using Glovius tools and functions, users can view and quickly analyze 3D CAD parts and assembly components.
[b
Glovius for Windows v5.1.0.428 (3rd September, 2019)
[/b]
- Added support for CATIA V5-6 2019.
- Reset Settings to Default.
- UI Improvements to Section and Projected Area tool.
- Improvements to 2D CATDrawing Comparison tool.
- Bug fixes and Improvements.
[b]Glovius.[/b] is viewer with an add-on based architecture, and operates on the industry standard JT file format. Its add-ons allow users to import CAD files from multiple platforms like CATIA V5, NX, Pro/ENGINEER, Creo, SolidWorks, Autodesk Inventor, STEP and IGES. Many more out of the box add-ons for implementing industry standard use cases are in the pipeline, including visualization with markup and collaboration, drawing-less manufacturing, etc. Glovius is also available as a toolkit along with rich Application Programming Interfaces (APIs) for building custom solutions.
[b]Salient features of Glovius:[/b]
- Interactively view 3D models using Zoom/Pan/Rotate
- Hide/Show Components and PMI data
- Perform simple sections and see section profile
- Measure point to point distance
- Export to a mobile optimized format, and transfer it to your smart phones and tablets
[b]Geometric Ltd.[/b] specializes in engineering solutions, services and technologies. The company's portfolio of Global Engineering services and Digital Technology solutions for Product Lifecycle Management (PLM) enables companies to formulate, implement, and execute global engineering and manufacturing strategies aimed at achieving efficiency in product realization lifecycle. Incorporated in 1994, the company is based in Mumbai.
On April 1st 2016, Geometric got into an agreement with HCL Technologies to transfer of its business to HCL Tech by way of demerger, except for its 58% share in the joint venture with Dassault Systèmes (3DS) (3DPLM Software Solutions Limited (3DPLM)). The transition has become effective on March 2nd 2017, after seeking all statutory approvals.
[b]Product: [/b] Geometric Glovius
[b]Version: [/b] Pro 5.1.0.428 *
[b]Supported Architectures: [/b] 32bit / 64bit
[b]Website Home Page :[/b]
http://www.glovius.com
[b]Language: [/b] english
[b]System Requirements:[/b] PC **
[b]Supported Operating Systems:[/b] **
[b]Size: [/b] 191.1 mb
[b]Glovius supports all popular 3D and 2D formats.[/b]
- CATIA V4, V5, V6 (.catpart and .catproduct) Parts & Assemblies
- NX (.prt) and Parasolid (.x_t) files
- STEP (.step and .stp) and IGES (.iges and .igs) files
- Pro/ENGINEER & Creo files (.prt and .asm files)
- SolidWorks Parts and Assemblies (.sldprt and .sldasm)
- Autodesk Inventor (.ipt and .iam) files
- Solid Edge (.par, .asm, .pwd, .psm) files
- 2D Formats - CATIA CATDrawings, DWG, DXF
- Other formats - STL, Rhino, VRML
- Windows 7, 8, 8.1 and 10
- 1280 X 1024 or higher display resolution with support for 32-bit color
- 4GB RAM or more
[b]DOWNLOAD[/b]
(Buy premium account for maximum speed and resuming ability)
Geometric Glovius 5.1.0.428 Pro
the art and craft of geometric origami | Create Your Own Geometric Animal | graphicriver 10 geometric photo actions download