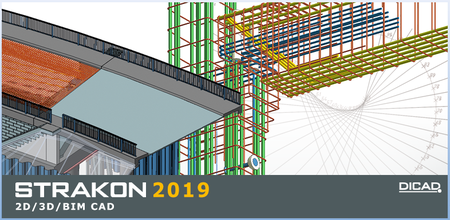 DICAD Strakon Premium 2019 SP1.2.3 Multilingual x64 | 2 GB
Languages: English, Deutsch, Français, Polski
Includes update only
STRAKON is a 2D/3D/BIM CAD system for structural design. The focus is on formwork and reinforcement planning. You can create 2D or 3D plans. You can edit the project in BIM (Building Information Modeling) or only in 3D or 2D. The designer or project manager can decide within a project which method is required or useful. As changes during the phase of planning and construction are very common, a high degree of modification comfort is very important. Furthermore, cooperation with many project participants via fast electronic data transfer is absolutely essential.
STRAKON allows you to communicate digitally with all project partners such as contractors, architectsa, structural engineers, MEP-planners, construction companies, etc. BIM in particular requires good interfaces in structural design, where formwork and reinforcement plans play a central role. Here IFC, CPIXML or 3D PDF offer a very good standard.
With STRAKON you are excellently positioned in the field of formwork and reinforcement planning for the future. BIM is in increasing demand by both the public and the private sector. It is therefore important that a CAD system can be optimally integrated into BIM process chains in terms of formwork and reinforcement. The decisive factor here is that BIM should offers advantages for your office - in this case STRAKON can support you very well. DICAD is a member of buildingSMART and the structural design group and is actively working on changing planning methods a 3D/BIM processes.
The focus of planning with STRAKON is in the field of formwork and reinforcement planning in 2D, 3D and BIM. With STRAKON you can work on different specialist fields. A structural engineer will find that STRAKON idealy supports his point of view when it comes to Structural engineering, civil engineering, bridge construction, precast construction, unitized construction and much more. But STRAKON can also be used for process in the fields of architecture, steel construction, timber construction etc.
The rapidly growing number of STRAKON users shows that STRAKON is gaining more and more approval and becoming the standard system.
Bridge and Structural Engineering Planning with STRAKON
In addition to buidling construction, the CAD software STRAKON offers you:
individual automated planning of bridge superstructures also with change of cross slope, cross section changes, widening, outcropping .
manual input or import of corresponding files from roadways, gradients, D40, D21
automatic creation of 3D routes with clothoids, arcs, parabolas etc.
curve cuts
automatic evaluations, e.g. height table in self-definable grids
3D/BIM planning of abutments, tunnels, round tanks, power plant towers etc. with the modern BIM technology "STRAKON-Cube".
beautiful professional 2D or 3D plans as a result
world coordinates (Gauß-Krüger, UTM) and point labels
IFC-Interface
import of 3D terrain models via REB, OKSTRA, LandXML
3D/BIM presentation possibilities from the finest on the plan, as image or live
best reinforcement planning for bridges and engineering structures
buidling construction, construction engineering, civil engineering, industrial construction, bridge construction, tunnel construction, power plant construction, structural precast parts, unitized precast parts
New version 2019: Strakon builds bridges
In a figurative sense, Strakon already built bridges in its earlier versions - i.e., between 2D, 3D and BIM. Thanks to the smooth transitions from object-oriented design to 3D construction and the BIM design method, Strakon users can chose the working method individually appropriate for the complexity of building construction, civil engineering works and precast construction. The new 2019 version from Strakon supplements the spectrum of application by adding bridge construction.
Bridge construction to 3D-/BIM standard
Special functions for automated 3D/BIM planning of individual bridge superstructures, including alternating transverse gradients, changes in cross-sections, expansions and haunches are among the most significant new additions. The important routing and gradient data for the design of complex bridge constructions for generating 3D routes can be imported per file or manually. These are automatically generated with the aid of clothoids, circular arches, parabolas etc.
Superstructures with changing cross-sections are also generated by the program. Every point of the bridge profile can be linked with its own path or with a 3D route. For generating plans, Strakon also offers, in addition to 3D views, functions for development and/or curve sections. The automatic evaluation functions include an elevation table, which provides the height of each profile point along an individually definable grid.
BIM data exchange with IFC 4.0
Strakon 2019 now enables, apart from the current IFC 2x3 standard, BIM data exchange with the new IFC 4.0 format. A certification for this format is expected for 2019. The 3D reinforcement contained in the model is transmitted to the IFC file as "genuine" reinforcement, including all parameters such as diameter, position number etc. This reduces the size of the IFC file. With the IFC format, an exclusive exchange of object geometries of 3D objects, flex components and embedded parts is now possible.
In addition, the IFC import was extended in accordance with task-orientation. IFC files can now be imported as reference in order to display, for example, only the contents. If a new version of this IFC file is generated in the course of a project, it can be simply exchanged by updating the reference. The IFC data are finally integrated into the model by resolution of the IFC reference. With this function, several IFC data can also be downloaded in parallel into the current 3D model as reference and individually displayed or masked.
Realistically presented and visualized
Visualization is gaining increasing importance due to model-oriented planning of building construction, engineering works and precast construction projects. Visualization of complex construction elements, precast components and projects prior to implementation can prevent misunderstanding and expensive production errors. In the new Strakon 2019 version, 3D/BIM projects can therefore now be visualized even more realistically.
In addition to the parallel perspective, it is now also possible to switch, by mouse click, to the central perspective for a more high-relief impression of the project. If visualization of material and texture is also activated, an even more realistic view of the project is obtained. Virtual objects are possible. In this way, developers and investors can also get to know the project on the inside and from every desired perspective. Especially attractive visualizations can be printed in high resolution.
Automatic sections and views
Direct 3D and BIM functions were not only extended: the new functions also make processing of the 3D layout even more efficient. In addition to automatic hatching of cross-sectional areas, front views, for example, can now also be hatched to graphically enhanced drawings. By specifying section plane and viewpoint, for example, cutouts and recesses in a plan or in a top view shown from behind the viewpoint of the observer can be displayed in a different way than being viewed from the front. Strakon 2019 automatically provides cutouts, recesses as well as wall openings like windows and doors with parameters such as length, width or parapet height.
These data are evaluated when providing the 3D drawing with captions so that a recess in the drawing, for example, is automatically displayed in width and height. If such a recess is changed, the caption text is automatically updated.
3D embedded manufactured parts directly in Strakon
Strakon users can generate 3D embedded parts either themselves, or can download them from the manufacturer's online catalog. Strakon 2019, however, also provides many embedded manufactured parts: for example, from Halfen, Hilti and Philipp. These have the advantage that they do not have to be separately downloaded; the degree of detailing is more practice-oriented and the matching views of the material and the drawing adjustments are already contained in the program. The 3D embedded parts in the 3D views are displayed in an abstracted way, with the advantage that the drawing is displayed correctly and faster. The performance problem that occurs when using a large number of 3D embedded parts with a high degree of detailing was also elegantly solved by Strakon 2019: the 3D embedded parts are displayed in detail only when zooming onto the model.
Strakon is characterized by many additional new features. For example, objects whose cross-section continuously changes can now be generated by the new blend function. Also new is the so-called cube reinforcement, which enables direct entry of reinforcement into the 3D model, automatically displays the 3D reinforcement views and positions them in the drawing.
Extract of the revised topics and innovations

Revised topics

Reinforcement
For central count view laying (input: m***), the distance from the reinforcement text is no longer deleted in the case of geometry changes
3D views
The correction of the pencil is only carried out for the selected lines.
The position of the center of gravity corresponds to the cube again.
Crash when placing form board views removed
Cube
For multi-layered wall profiles, the individual shell values can be entered correctly again.
Recess objects can be reinserted into Flex components.
Start coordinate of the rail/roadway revised
3D reinforcement views
Position of meshes corrected
Unitization - double wall
Recesses, depth
Joint reinforcement: generation and number in element drawing corrected
Import/Export
Export DXF: corrected text and list shift as well as position of Flex-Parts labeling
Interfaces
Flex-Parts Unitechnik export: Extremely thin layers are now filtered out for the output.
Miscellaneous
Program crash during move connection points or read segment fixed
Open drawings with a lot of model references speeded up again
DOWNLOAD
(Buy premium account for maximum speed and resuming ability)
DICAD Strakon Premium 2019 SP1.2.3
serial box 09 2019 | Worksheet Crafter Premium Edition 2019 1 7 Build 55 | Cp 2019 | Club Grand Opening V2208 2019 Premium | jeu pes 2019 | us 2019 | AUTOCAD 2019 | zbrush 2019 | adobe cc 2019 | strakon frei