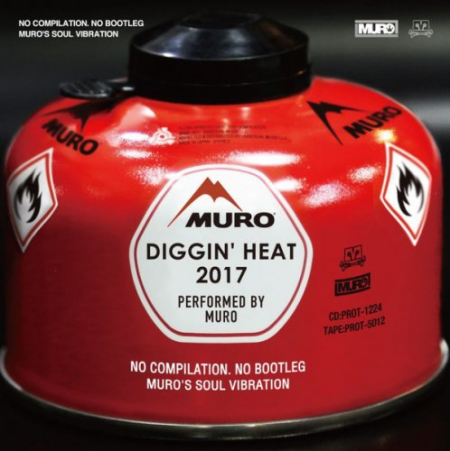 Artist
: VA
Title
: Muro - Diggin' Heat 2017
Year Of Release
: 2017
Label
: Universal Music
Genre
: Boogie, Funk, Soul
Quality
: Mp3 320 / Flac (tracks)
Total Time
: 01:13:57
Total Size
: 180/515 Mb
Tracklist:
01. Quincy Jones - Body Heat
02. Bennie Maupin - You Know The Deal
03. Bobby Lyle - Good Inside
04. Daniel Sahuleka - Love Is In
05. Homi & Jarvis - I'm In Love Again
06. The Dramatics - Stranger (In My Life)
07. Love Unlimited - Move Me No Mountain
08. Rufus featuring Chaka Khan - Stop On By
09. Tavares - Right On Time
10. Wilson Williams - Faith Will Bring It Home
11. Alicia Myers - When Love Starts To Go
12. Rhythm Heritage - Come On And Dance
13. Color Blind - Crazy
14. Charles Earland And Odyssey - Ahead Of Your Time
15. Southern Cookin' - The Rainy Day
16. Gloria Gaynor - This Love Affair
17. Jermaine Jackson - You're Givin' Me The Runaround
18. T-Boy Ross - I Want You
19. One Way - Didn't You Know It
20. Jeffrey Osborne - Don't You Get So Mad
Japanese hip-hop producer, remixer, DJ, beat digger.
Born: 25 March 1970 in Kawaguchi, Saitama Prefecture, Japan.
Takayoshi Murota, better known as Muro, is well known for his crate digging for old records in order to (re)create new ones. Also known for having released very many 'mixtapes' on various formats, using sections and breaks from funk, soul, disco, and very many other sounds, all done in creative and interesting ways.
When DJing live, Muro also is known for often doing 7"/45-only DJ sets, playing anything and everything; from disco to boogie to funk to soul.
He also releases lots of limited edition vinyl releases, again often on 7"/45 format, across a great deal of micro labels, and pressed in highly limited amounts - much like the many DJ mixes he releases.
VA - Muro - Diggin' Heat 2017 320
VA - Muro - Diggin' Heat 2017 Lossless
DOWNLOAD
(Buy premium account for maximum speed and resuming ability)
VA Muro Diggin' Heat 2017
MIB 2017 | pes 2017 | vrt dvd 2017 | Cfa 2017 | 2017 | the house 2017 | F1 2017 | federer 2017 | 28 6 2017 wwe sd | diggin deeper into map 3d share